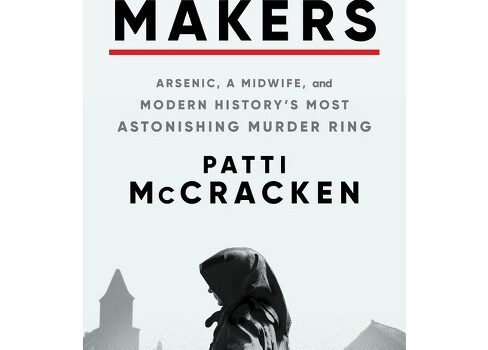 Brendan's Alternate Tagline for The Angel Makers:
Don't trust Auntie.
Quick synopsis:
A true crime story about a poisoning ring in 1920s Hungary.
Fun Fact for Non-History People:
An old test for finding out if someone was poisoned was combining copper, acid, and a sliver of organ tissue from the victim. If it turned black or grey, arsenic was probably in their system.
Fun Fact for History Nerds:
Dozens of people needed to be dug up when the investigation finally happened.
My Take on The Angel Makers:
The Angel Makers by Patti McCracken is a unique entry into the historical true crime genre. McCracken writes the book as if it were a novel and the results end up being a mixed bag. Mostly enjoyable, but sometimes frustrating.
The Angel Makers tells the story of a poisoning ring in early 1900s Hungary. The setting is a farming village, and the main culprit is a midwife who absolutely loves poisoning men and babies. By the end, the extent of the poisoning ring takes on mythic proportions.
I struggle to assign a final rating to The Angel Makers. The reason is McCracken's choices in her narrative. She digs deep into details and consistently highlights the sights and smells we would experience if we were standing next to each character. At first, this is very effective. You feel heartbroken for a woman whose drunk husband beats and berates her and the description of him and his disgusting breath ratchets up the emotions. McCracken avoids telling a straight story in order to invest the reader in the lives of her characters.
The problem is McCracken never lets up on her descriptions and misdirection. By the final quarter of the book, you wish the pace would pick up and the interrogations would take center stage. Unfortunately, the obfuscation of what is going on, which works very well early in the book, becomes extremely frustrating by the end of the book.
Ultimately, I am giving the book four out of five stars with a disclaimer. McCracken has written something very different than most books of this genre. If you like your true crime to be straightforward, then this is not the book for you. If you want to live more through the eyes of the people who lived this tragedy as if it were a novel, then you won't be disappointed.
(This book was provided as an advance copy by Netgalley and William Morrow Books.)
Verdict:
An interesting true crime story written in a unique way. Buy it here!
If You Liked This Try:
The Angel Makers by Patti McCracken