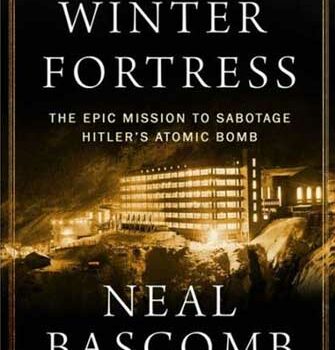 Brendan's Alternate Tagline for The Winter Fortress:
I love it when the good guys blow stuff up!
Quick synopsis:
The story of a group of Norwegian commandos in World War II trying to take out an important enemy site tied to an atomic bomb.
Fun Fact Non-History People Will Like:
It seems like something made up for a James Bond movie, but yes, commandos in World War II would fight while skiing.
Fun Fact for History Nerds:
Heavy water is super complicated. It seems obvious after reading but the Winter Fortress was one of the few places in the world to get heavy water which was needed to figure out the bomb.
My Take on The Winter Fortress:
This book seems like a pretty straightforward story. Norwegian commandos need to blow up the Winter Fortress. But it is a hell of a lot more than that.
It is a story about heavy water and what it can do. I still don't understand it, but that's because I'm dumb.
The book is also the story of the Norway resistance to Nazi rule during World War II. Bascomb introduces the main players and takes them from their flights (or hiding) from Norway. You learn who they are, who they put in danger by resisting, and the challenges they have before they even start their mission to destroy the Winter Fortress.
And then the mission happens, and you are only halfway through the story. This is not a book about one sabotage mission, it's actually three in one. And each mission varies greatly about how successful it is.
Bascomb really brings home the danger, heartbreak, and sacrifice of his subjects. And hey, it's always a good book when the Nazis lose in the end.
Verdict:
Great book for everyone. It reads like a novel and has a lot of twists and turns which will keep even non-history nerds interested. Buy it here!
If You Liked This Try:
The Winter Fortress by Neal Bascomb