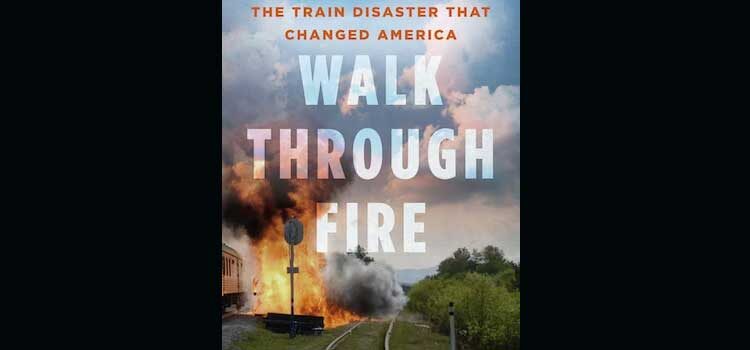 Brendan's Alternate Tagline for Walk Through Fire:
Don't go look at train derailments!
Quick synopsis:
The story of the Waverly Train Disaster of 1978.
Fun Fact Non-History People Will Like:
The explosion was so powerful that a tank pipe was thrown over 400 yards.
Fun Fact for History Nerds:
The medical examiner for the disaster also did Elvis' autopsy.
My Take on Walk Through Fire:
Ever heard of the Waverly Train Disaster of 1978? No, I hadn't either. However, I am glad Yasmine Ali rectified that situation.
Ali, who grew up in Waverly, TN and whose parents feature prominently in the narrative, tells the story of a train derailment which turned into a massive explosion well after the crash. The explosion would leave hundreds injured and 16 dead. The aftermath would lead to the creation of FEMA in the U.S.
The good parts of this book are very good. Ali writes about Waverly in a very loving manner and her familiarity with the people of the town makes her prose that much more effective. She does not dwell too long on any one person or event and the increasing tension is palpable before the explosion. Ali's medical training also adds to the story, but she never gets too deep into "doctor speak." When Ali is focused on the people and the train disaster, this book is excellent.
I have some minor quibbles. The section on legislation and the creation of FEMA slows down the book overall. Other disaster books usually need to talk about long, drawn out court battles but there wasn't much to speak of after Waverly. FEMA just sort of seemed inevitable as opposed to a true call to action over insurmountable odds.
The only other criticism is the explosion is not explained in depth. There are recollections from people in Waverly when it happened, but there is no cohesive section explaining exactly what happened when everything finally ignited. Again, this is a very minor detail and did not inhibit my enjoyment of the book. I definitely recommend it for anyone who enjoys books of people or towns overcoming tragedy.
(This book was provided to me as an advance copy by Netgalley and Kensington Books.)
Verdict:
A really interesting book about a disaster you probably never heard of. Buy it here!
If You Liked This Try:
Walk Through Fire by Yasmine Ali