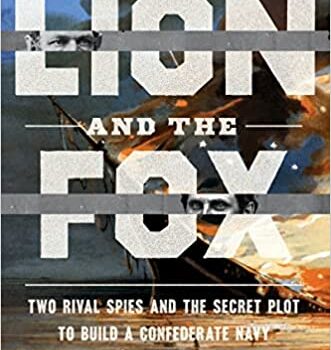 Brendan's Alternate Tagline for The Lion and the Fox:
Don't mess with a pencil pusher.
Quick synopsis:
The story of a Union agent and a Confederate agent battling in England over the creation of a Confederate navy.
Fun Fact Non-History People Will Like:
At the beginning of the Civil War, the South only had ammunition for 28 rounds per firearm.
Fun Fact for History Nerds:
Between 1800 and 1860, British need for cotton increased 1000% to 400,000 tons a year.
My Take on The Lion and the Fox:
Sometimes a book's plot is a winner no matter who the author is. The story is so amazing and exciting that it can't help but be a winner. This is not one of those books. The Lion and the Fox could be an extremely boring slog in the wrong hands, but luckily Alexander Rose knows how to write an engaging narrative.
Centered on two men in Liverpool, England during the Civil War, The Lion and the Fox follows the story of how these two men face off. One is trying to create a formidable Confederate navy while the other tries to stop him. Their main method of battle: paperwork. Yes, paperwork. This is ostensibly a game of cat and mouse but not of the James Bond ilk. If that sounds like a letdown, don't worry, Alexander Rose makes this a page turner somehow. I flew through the book because even though the final outcome was preordained, the story of these two men was not.
Verdict:
A really fun read. Buy it here!
If You Liked This Try:
The Lion and the Fox by Alexander Rose