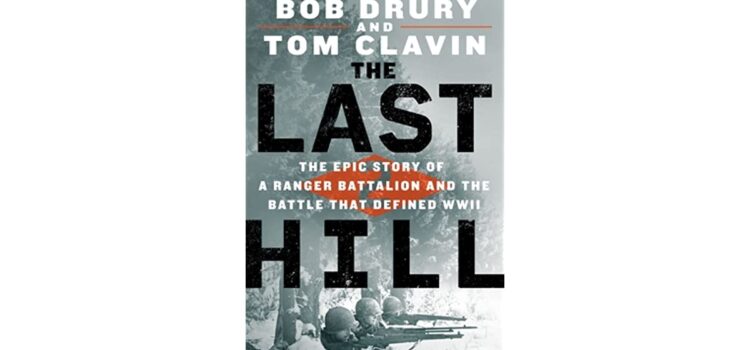 Brendan's Alternate Tagline for The Last Hill:
Yeah, they always say one more hill. Then there's always another hill.
Quick synopsis:
The story of "Rudder's Rangers" in World War II.
Fun Fact Non-History People Will Like:
When the U.S. first entered World War II 85% of war resources were allotted to Europe as opposed to the Pacific.
Fun Fact for History Nerds:
Of the 130 soldiers who stormed Hill 400, only 16 walked back down.
My Take on The Last Hill:
Bob Drury and Tom Clavin are no strangers to epic stories especially about the military. This is another one of their excellent books which follows a Ranger Battalion in World War II to (essentially) their final action on Hill 400.
The book traces the story not only of the Ranger Battalion as an organization but also multiple soldiers within the unit from their arrival until the end of the war (or sometimes unfortunately sooner). If you like a good book on World War II, then this should be on your list. It is detailed without becoming a military science book and each man has his own clear character traits which makes them easy to distinguish.
My only minor quibbles are that it seems like there might be too many men who get a chance at the spotlight. As a former military member, I understand the pull to give every hero their due. For the narrative though, it can feel like too much bouncing between positions. Doc Block probably needs his own biography. The other quibble is that the book is more a battalion biography than a focus specifically on the battle for Hill 400. As I said, these are minor quibbles. This is still a great read.
(This book was provided to me as an advance copy by Netgalley and St. Martin's Press.)
Verdict:
A great book for any World War II nerds. Read it. Buy it here!
If You Liked This Try:
The Last Hill by Bob Drury and Tom Clavin