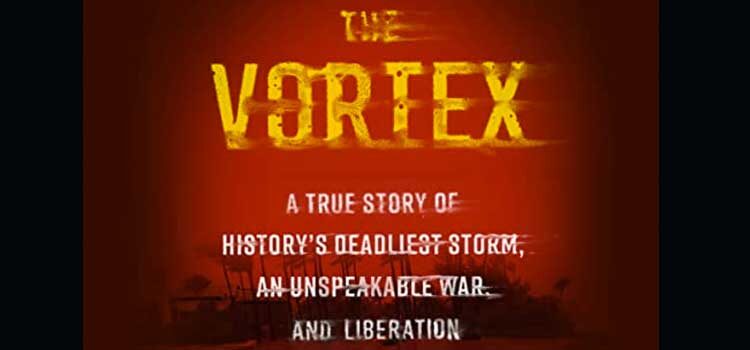 Brendan's Alternate Tagline for The Vortex:
The people ended up being the killer storm.
Quick synopsis:
The story of a killer storm and the creation of Bangladesh.
Fun Fact Non-History People Will Like:
"Pakistan" is actually an acronym of the largest provinces and groups making up the country.
Fun Fact for History Nerds:
Cyclones tore through the Bay of Bengal in 1737 and 1864, each time killing more than 300,000 people.
My Take on The Vortex:
Let's get this out of the way first. I really enjoyed this book. As a chronicle of the creation of Bangladesh, the book is fast-paced, interesting, and gives a lot of information I never knew anything about. If you want a book about a revolution that everyone can enjoy, this one is it.
The book jumps between numerous people as a deadly cyclone comes through the Bay of Bengal and causes massive destruction. Each person is affected differently and takes some drastically different actions. Some are murderous, some are lifesaving, some are both.
There are a few caveats. First, while called "The Vortex" the cyclone is very minor in the narrative. Yes, the authors try to draw a direct line from the storm to the uprising, but a lot of issues existed already. Next, a few people the book follows are at best, superfluous, at worst, distracting because their story seems overly dramatic. It's not that their story is unbelievable, it's just that in comparison to how understated other characters are…well they stick out. Finally, in the postscript, the authors make the argument this book is about climate change. It is a very weak argument which ultimately has zero effect on enjoyment of the book.
Verdict:
A really good book especially if you are as ignorant about this period as I am. Buy it here!
If You Liked This Try:
The Vortex by Scott Carney and Jason Miklian