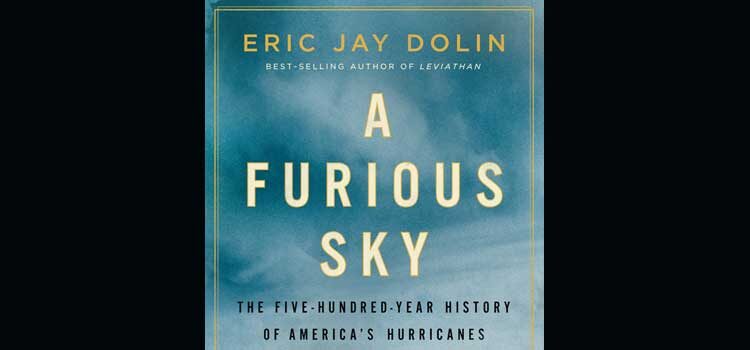 Brendan's Alternate Tagline for A Furious Sky:
Don't live in Florida. Or Texas. It's science.
Quick synopsis:
The 500-year history of hurricanes in America.
Fun Fact Non-History People Will Like:
When hurricanes started being given proper names, they were only women's names. It led to some rather hilarious adjectives being attributed to storms like "moody." Who doesn't love their weather with a side of misogyny?
Fun Fact for History Nerds:
The deadliest hurricane in American history is not Katrina. In fact, Katrina is not even in the top 5. Number 1 belongs to the 1900 Galveston Hurricane which killed at least 6,000 people and maybe as many as 12,000.
My Take on A Furious Sky:
Hurricanes are big business nowadays. The Weather Channel might survive just based on the hurricane season. In a weird way, the power of hurricanes is minimized by just how often we hear about them and all the information we now have.
Dolin takes you back to the beginning of America when a few Spaniards would look at the sky and say, "Well, that doesn't look good." And then there was a hurricane and a lot of people died. (Bonus fact: Columbus gave the first accurate forecast of a hurricane in the Americas. Granted it was only an hour or so before it hit landfall.)
Dolin does what he does best and covers a gigantic timeline of a topic and choosing the major things someone needs to know. He did it with American whaling, lighthouses, and now with hurricanes. If you love hurricanes, he won't add to your knowledge because he's very high level. Peruse the recommendations below for books which cover just one storm from beginning to the very end.
Verdict:
Great book for someone who doesn't know much about hurricanes. Even casual readers will enjoy it. Buy it here!
If You Liked This Try:
A Furious Sky by Eric Jay Dolin