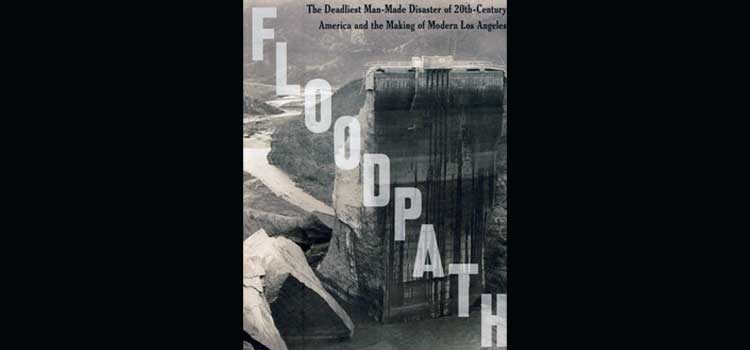 Brendan's Alternate Tagline for Floodpath:
Came for the flood, got too much else.
Quick synopsis:
The story of the St. Francis Dam flood.
Fun Fact Non-History People Will Like:
Mulholland Drive in L.A. is named after the designer and builder of the St. Francis Dam. He was alive when the flood happened and killed scores of people.
Fun Fact for History Nerds:
L.A. as a city was a bully to the areas surrounding it and often used the scarcity of water to get its way. The St. Francis Dam was a perfect example. Building the dam forced many surrounding communities to join with L.A. in order to get at the water.
My Take on Floodpath:
Books on historical disasters need to do two things: tell you about the disaster and make you want to cry. You need to feel the emotion come off the page. I feel Wilkman leaves in too many details. Before you get to the flood, you had to wade through a whole lot of politics and quite frankly, uninteresting details.
Th St. Francis Dam disaster is steeped in dirty politics and some of these details are necessary to understand the flood and the repercussions after it. Unfortunately, Wilkman is not discerning enough with these facts and beats you down with names of people tangentially involved. The politics around William Mulholland is much better told in Gary Krist's The Mirage Factory and Krist does it faster according to page count.
Wilkman does not disappoint when describing the flood. He puts together a pretty compelling narrative of the dam break in the middle of the night and the details which come along with that. Unfortunately, that is only one third of the book.
The final third of the book which deals with the aftermath of the flood is interminable. It feels like a movie with too many endings in which you beg the lights to go up in the theater so you can leave. Wilkman needed to choose one narrative of the post-disaster (probably Muhlholland) and tie up loose ends swiftly.
Verdict:
If you want all the details of the St. Francis Flood (and I mean all of them), then this will work for you. If you are looking for an entertaining story from beginning to end, see the list below. Buy it here!
If You Liked This Try: