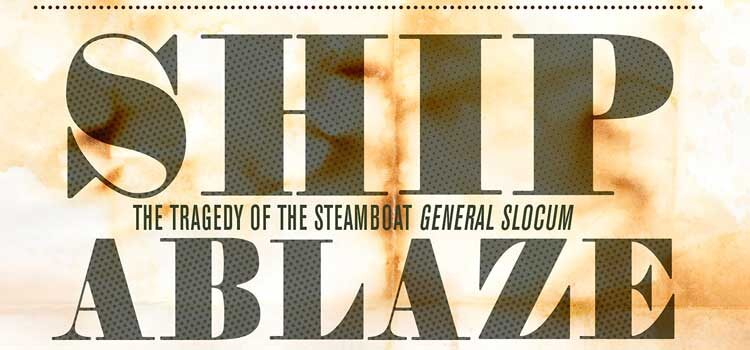 Brendan's Alternate Tagline for Ship Ablaze:
Sometimes life preservers are a bad idea.
Quick synopsis:
The story of the disaster of the General Slocum in 1904.
Fun Fact Non-History People Will Like:
On a pleasure cruise around New York City, the boat caught fire and sank killing 1,342 people on board. It was the worst disaster in New York history until September 11th.
Fun Fact for History Nerds:
The safety features of the boat were so out of date that the life-jackets actually made people sink faster rather than float.
My Take on Ship Ablaze:
Some disaster stories defy belief. First, you can't believe they happened without ever hearing about them. Second, the details sound so alien to what we know today that it seems like fiction. The story of General Slocum fits the bill.
In 1904, a Lutheran Church from Little Germany in New York City chartered the General Slocum for an excursion. It was an annual trip which was now on its 17th year. As you may expect, whole families were planning on going. They boarded and the ship set off at 9:30 am. The fire was first noticed at 10 am.
Let me quickly list some of the safety features we now expect on ships like this and their condition at the time of the fire: fire hoses (rotted and couldn't hold water), lifeboats (bolted in place), life preservers (weighted down with iron because the cheap cork used didn't make minimum weight requirements). There were over 1,400 people on the boat. The estimated deaths were between 1,021 to 1,342.
O'Donnell doesn't revel in the death. He takes the time to give backstory and make the reader feel the aftermath as a massive amount of a few city blocks were decimated by the deaths. Entire families died within Little Germany. O'Donnell tells the full story and doesn't turn this story into disaster porn.
Verdict:
This is a horrific and amazing read. O'Donnell does a great job giving the full story and not just the disaster. Buy it here!
If You Liked This Try:
Ship Ablaze by Edward O'Donnell