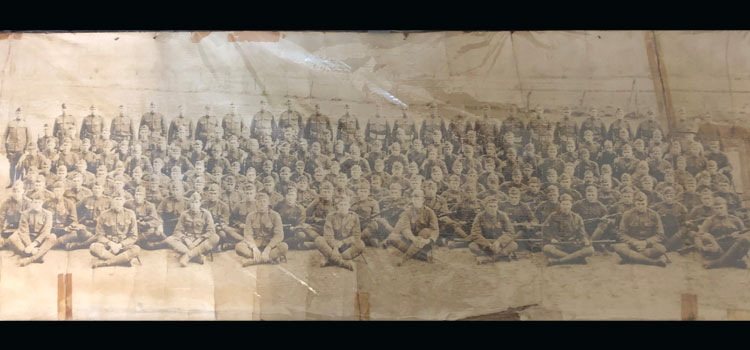 My continued search into Charles Dawson through his World War I photo. For Part I, go here.
The hardest part by far is figuring out the bottom middle of the photo. I knew it contained Charles' unit number because I could clearly make out "D Company." The unit number was much fainter.
After a whole lot of staring, it looked like it might say "31st Inf." If so, this was another strange coincidence since I just completed a book about the 31st Infantry during World War I. However, common sense told me it could not be them. The 31st were called the "Polar Bears" because they actually invaded Russia during World War I. They were sent ostensibly to protect some supply lines but ultimately fought the Bolsheviks more than anything else. If Wanda's grandfather fought in Russia during World War I then that would definitely come up in conversation at some point. Also, the Polar Bears came from the northern Midwest and Wanda's family is from Virginia.
I decided to backwards search a bit. I knew the inscription started with 3 and ended with infantry. How many units could there be, right?! Turns out a lot. Luckily for me, the 314th Infantry was out of Virginia and wouldn't you know it, that inscription looks a lot clearer when you know what it actually says. A quick google search and the mother lode of historical documents on the 314th was a click away: http://www.314th.org/314th-historical-documents.html.
As any history nerd will attest, whenever you can yell (probably audibly), "I've read about this before!" then it's a fun moment. The 314th gave me that gift. The ship they took to France in World War I, the SS Leviathan which I had read about in The Great Rescue by Peter Hernon. You may ask, "who cares about a ship?" Well, when the ship starts its life as a German ship and ends up transporting over 100,000 American troops then it is a pretty cool story.
The Leviathan began its life as the Vaterland. It was a cruise ship for Germany and for a short while was the largest ship in the world. It headed out and came to port in New York City right when World War I exploded. The ship's crew knew it would have a hell of a time getting back to Germany with the British navy on the prowl and decided to take a sojourn in New York until it was safe to leave. After all, the Americans weren't involved. What could go wrong?
Three years later, wouldn't you know it, the Americans joined the war and confiscated the Vaterland. Before long, it became the U.S.S. Leviathan and began transporting troops. Needless to say, it became a dream target for Germany. No one likes having their property confiscated and used against them.
One of those troops transported by the Leviathan was Charles Dawson. And when he got to the other side of the Atlantic, he and his unit would take part in the deadliest campaign in American history: the Meuse-Argonne Offensive.
(The third and final part coming soon!)
History Detective: Charles Dawson Part II