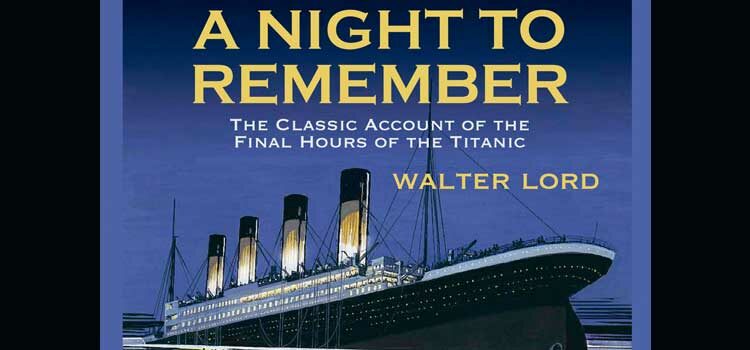 Brendan's Alternate Tagline: Better than the movie. Certainly shorter.
Quick synopsis: The classic retelling of the sinking of the Titanic. Enough said. This book was used as reference material for James Cameron when he wrote Titanic. Walter Lord wrote it in 1955. I believe that's the definition of timeless.
Fun Fact Non-History People Will Like: The head baker was one of the few survivors picked up later by lifeboats. Mainly, it was because he downed a bottle of alcohol right before ending up in the freezing water.
Fun Fact for History Nerds: Fifth Officer Lowe organized a rescue effort using lifeboat number 14. Number 14 is the only lifeboat from the Titanic to return for survivors.
My Take: When you're good, 146 pages is enough.
I also don't think we need to even rehash the plot here.
Walter Lord wrote a masterpiece by doing something more authors should do. Let the story tell itself.
Lord runs through characters with little or no background. He pulls from eyewitness accounts whenever possible but also points out when they may not be reliable. His prose is effortless. He wrote this in 1955 but you would never know it.
I won't belabor the point. Read this book.
Verdict: This is a classic for a reason. Lord writes plainly, never adds words where they are not needed, and tells the story with an almost dispassionate affection for his subjects. Everyone should read this book.
If You Liked This Try:
Mike Dash, Batavia's Graveyard
Caroline Alexander, The Bounty
Nathaniel Philbrick, In the Heart of the Sea
Joan Druett, Island of the Lost
Ed O'Donnell, Ship Ablaze
A Night to Remember by Walter Lord